Multi-channel amplitude analyzer for spectrometric measurements.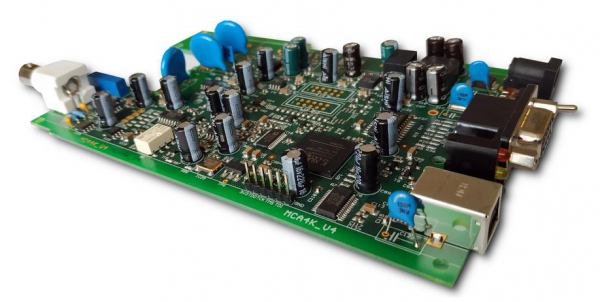 One of our projects for radiation measurements is the MCA4k. It is a compact single-board analyzer that can process signals from spectrometric or scintillation probes. Its main advantage is high stability and ease of configuration and control. It has a built-in digital oscilloscope, 4 digital inputs and outputs and independent metering of the internal high voltage for detection probes.

The analyzer is intended for industrial as well as laboratory measurements, where the main requirements are ease of use together with a high level of configurability of the analyzer algorithms. The unit features a completely independent autonomous mode of operation, whereby the measurement is configured and started from a computer via the USB port. The unit can then be disconnected and left alone to collect and process the data. Later on, the computer can be connected again for data and results download.
Main Features:
ADC resolution: 12-bit (4096 channels)

Internal memory: 4096x32bit (>4Gimp/channel)

Sampling rate: 80MHz

Dead time: 24ns/impulse (forced)

Shortest processed impulse: 50ns

Internal HV generator: 0-1500V, max 1.3mA
Inputs:
Single-wire scintillation probe

Shaping constant 1us

Pole-zero compensation

Adjustable gain (x1, x1.25, x1.7, x2.5, x5)

Auxiliary input for external impulse signal 0-5V (1.3mV/channel)
Communications:
USB 2.0 full speed for PC

4x TTL input and 4x TTL output for general use

3x LED indicator HV
Software:
The unit is supplied with a software package for basic spectrometric measurements.
Configurable measurement time, HV, number of channels

Spectrometric amplitude analyzer

Digital oscilloscope

Detector plateau measurement

Dead time correction

Pile-up rejector

Energetic calibration (up to 6 points)

Export and import of unit settings

Source code available
The MCA4k unit is in production and shipping. Should you are interested in this product, please send us your inquiry.