De-jittering and up-sampling unit.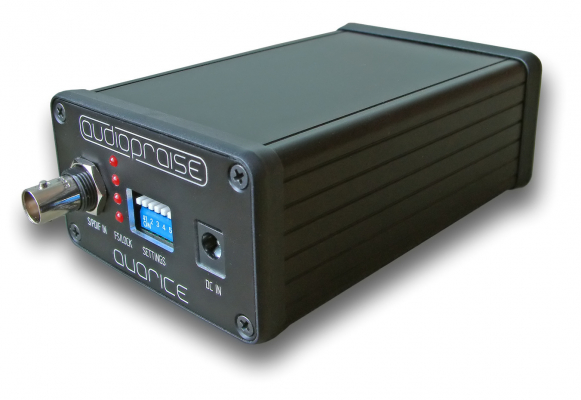 It is no secret that considerable differences can be heard between the sound of various sources of digital signal (digital transports), connected to the same DAC.

These differences may be quite large, even though the source digital data remains the same. What is the cause of these differences? The answer is not altogether straightforward, the causes can be found in the instability of the clock signal, signal interference, earth loops etc.
The Avarice is a stand-alone device that is able to perfectly galvanically isolate the signal source from the DAC, significantly suppress any instabilities in the clock signal, and also to improve the CD signal by up to 4 times up-sampling. You would be surprised to discover how signal sources that had been un-listenable previously - such as cheap DVD players, PC sound-cards, media streaming devices or satellite receivers - can play sound as top-class digital transports, when combined with the Avarice.
Features & Specifications:
S/PDIF Input

Protocol: S/PDIF (IEC958 / EIAJ CP1201)

Type: transformer isolated 75Ω BNC coaxial, optical TOSLINK optional

Format: linear PCM stereo

Supported sampling rates: 32 / 44.1 / 48 / 88.2 / 96 / 176.4 / 192kHz

Supported bit depths: 16-24bit

S/PDIF Output

Protocol: S/PDIF (IEC958 / EIAJ CP1201)

Type: re-clocked transformer isolated 75Ω BNC coaxial

Format: linear PCM stereo

Supported sampling rates: 32 / 44.1 / 48 / 88.2 / 96 / 176.4 / 192kHz

Supported bit depths: 16 / 24bit

Jitter Reduction

Digital PLL signal recovery

Two-stage output SPDIF re-clocking

Three data jitter reduction modes

Ultra low-noise power regulators for clock and TX circuits

High Quality LPCM Synchronous Up-sampling

Custom developed Zero Alias Linear Phase Filter

33bit arithmetic / 67bit accumulator

2x and 4x single stage up-sampling

User Configurable Functionality

Zero Alias LPCM Up-sampling: enable / disable

Zero Alias LPCM Up-sampling: 2x / 4x

Output bit depth settings: 16 / 24bit

2 user selectable LPCM Up-sampling filter characteristics

Data jitter reduction: OFF/stage 1-3

Power and Dimensions

Connector: 2.1mm DC jack

Rating: 8-15VDC / 1A

lxwxh: 120x78x43mm